2020-09-03
Dubai, UAE, 28 July 2020 – Rheem along with its Air – Conditioning partner in UAE, Leminar Air Conditioning Company – a member of the Al Shirawi Group and the leading HVAC & Plumbing products distribution company in the region, successfully launched the Rheem Innovation Center, a "State-of-the-Art" facility where Subject Matter Experts shall be conducting live sales and service trainings on display & live Air-conditioning equipment.
The facility is equipped with Rheem's most Intelligent & Sustainable products in the domain of Commercial and Residential Air-Conditioning solutions. The grand launch event was kicked-off with a ribbon cutting ceremony by Brian Hempenstall (Managing Director – Rheem (MEA), Pramodh Idicheria (COO – Leminar Global) and leadership teams of Leminar and Rheem.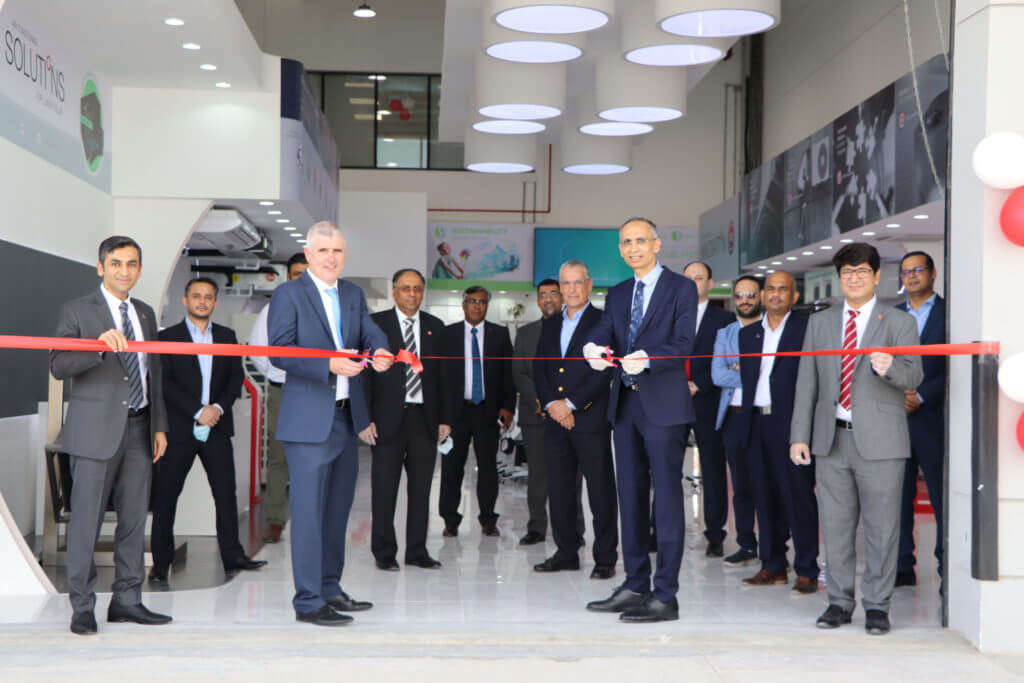 As part of Rheem's Global Initiatives on Sustainability Rheem shall be contributing to the Learning and Development of HVAC professionals, consultants, contractors and end users by conducting year round trainings on the latest HVAC technology, best in class design, installation and maintenance practices.
The launch of this digitally advanced facility is a major step towards Rheem's global sustainability goals of Training 250,000 contractors and plumbers by 2025. Additionally Rheem is building a new manufacturing facility in Dubai, which will offer the latest commercial products to GCC customers and contribute to the economic development of the region. Rheem has five such high-tech. hands-on innovation learning centers across the USA & Canada and this latest training platform is being brought to our customers in UAE.
Speaking at the launch, Brian Hempenstall, Managing Director – Rheem (MEA) expressed his excitement by saying, "Rheem is proud to have a successful collaboration with Leminar and pave the way for its exponential growth in the UAE market. We value this partnership, and together we will make sure this platform proves to be one of the best to harness knowledge and help skill enhancement."
While addressing the launch ceremony, Pramodh Idicheria, COO – Leminar Global, mentioned, "The Rheem Innovation Centre will bring forth our efforts towards CER (Corporate Environmental Responsibility) and showcase our range of sustainable and technologically advanced products. Leminar's robust network of customers will benefit from the several live demonstrations and working models installed at the center, as it will help them get hands-on experience and understand the detailed mechanism behind the products."


About Rheem
Founded in 1925 by Brothers Richard & Donald, Rheem is a renowned American manufacturer of reliable Air Conditioning and Water Heating solutions with a strong global presence & history that is nearly 100 years old. For many of its Residential and Commercial Air Conditioning solutions, Rheem has state of the art manufacturing facilities in North America. In the GCC, Rheem has been present for over 30 years now and has regional partners & service organizations all over.