The relaunch event also disclosed the HVAC company's new distribution partner AMI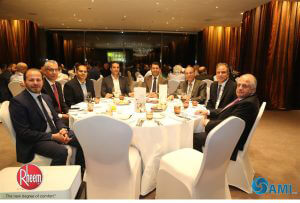 Rheem, in conjunction with AMI (Applied Machinery International) in Lebanon, carried out an event in Beirut that relaunched its HVAC product range. At the event, which was held on May 16, 2017, Rheem also announced to its developers, consultants, and contractors that AMI will be its new distribution partner in Lebanon.
AMI, which is a leading HVAC solutions provider in Lebanon, has more than five decades of combined experience. The company has executed many successful and iconic projects in collaboration with a select loyal customer base.
During the event, Rheem showcased its existing range of products in the market, particularly its high efficiency heat pump products from the North America and Thailand regions. Rheem also disclosed the company's future growth prospects at the event. Rheem's product portfolio includes a full range of direct expansion air-conditioning solutions such as rooftop package units, ducted units, and decorative splits; advanced integrated air-conditioning, heating and water heating energy saving and comfort systems such as H2AC; and a full range of water heating products including electric tank and tank-less water heaters (electric and gas), boilers, heat-pump water heaters, and solar-powered water heating solutions.
Rheem has been offering its products in Lebanon for more than three decades, and at the event, the company reaffirmed its strong partnership with AMI that will help Rheem to continue its ongoing success in the market.
In the Middle East, Rheem has been in service for over 30 years with more than one million ton of air-conditioning products installed.